Adopting a pet is a big decision. Yet, there are a lack of tools available to help people find their four-legged counterpart that other big-decision making topics like buying a car, housing, and even finding a human partners have long had. Companion is an app that would help those who are ready to adopt find the ideal pet for their lifestyle. Companion is not meant to replace actual visits to shelters, but to help people decrease the amount of time searching for an animal.
Problem Space
Growing up, we always had cats in our home. In 2016, I had just graduated and been sans cat for four years while I attended university. I was ready; I had some savings, was living in a pet-friendly apartment and had a roommate who could double as my cat-sitter. I'm not going to go through all of the benefits of owning a pet, but basically owning a pet has been proven to reduce anxiety.
My search went something like this over the course of 2 months:
Shelter 1 --> Shelter 2 --> Shelter 1 --> Shelter 3 --> Shelter 2 --> The Petco next to Shelter 2 (they had some cats from the shelter)
At first, I would check the websites before going but soon realized they were updated pretty sparsely. I don't know if it was just the time of year, but there were not many cats available at any of the shelters. I would go to each shelter and find that there were only 3, maybe 4 cats available. Of course this was a good thing, cats were being adopted! But as I left each shelter, part of me was disappointed that I hadn't found "the one". I know at least 3 other people who have had similar experiences as myself. Not exactly hard evidence that Seattle has a cat shortage, but it did make me raise the question:
What's Already on the Market?
During my search, I did come across some apps for browsing pets. However, at the time, I remember being disappointed in their functionality and frustrated by their often bugginess which is why I went with the "go and check" method in the end.
To see what was available in 2018, I downloaded the highest rated "pet-finder" I could find on the App store , WeRescue (4.8 from 1.82k ratings), and another popular app, AllPaws. Both apps had the right ideas; you could browse based on breed, size, etc., and contact shelters directly. However, both had issues with the way data was organized and presented. It was hard to gather information at a glance about what kind of personality an animal had and had limited filtering options. A lot of the apps used a "swipe left" based approach to match pets which I found tedious. It felt having to "reject" pets. And when they were gone, there was no clear way on how to see them again. They were a good start, but not quite there yet.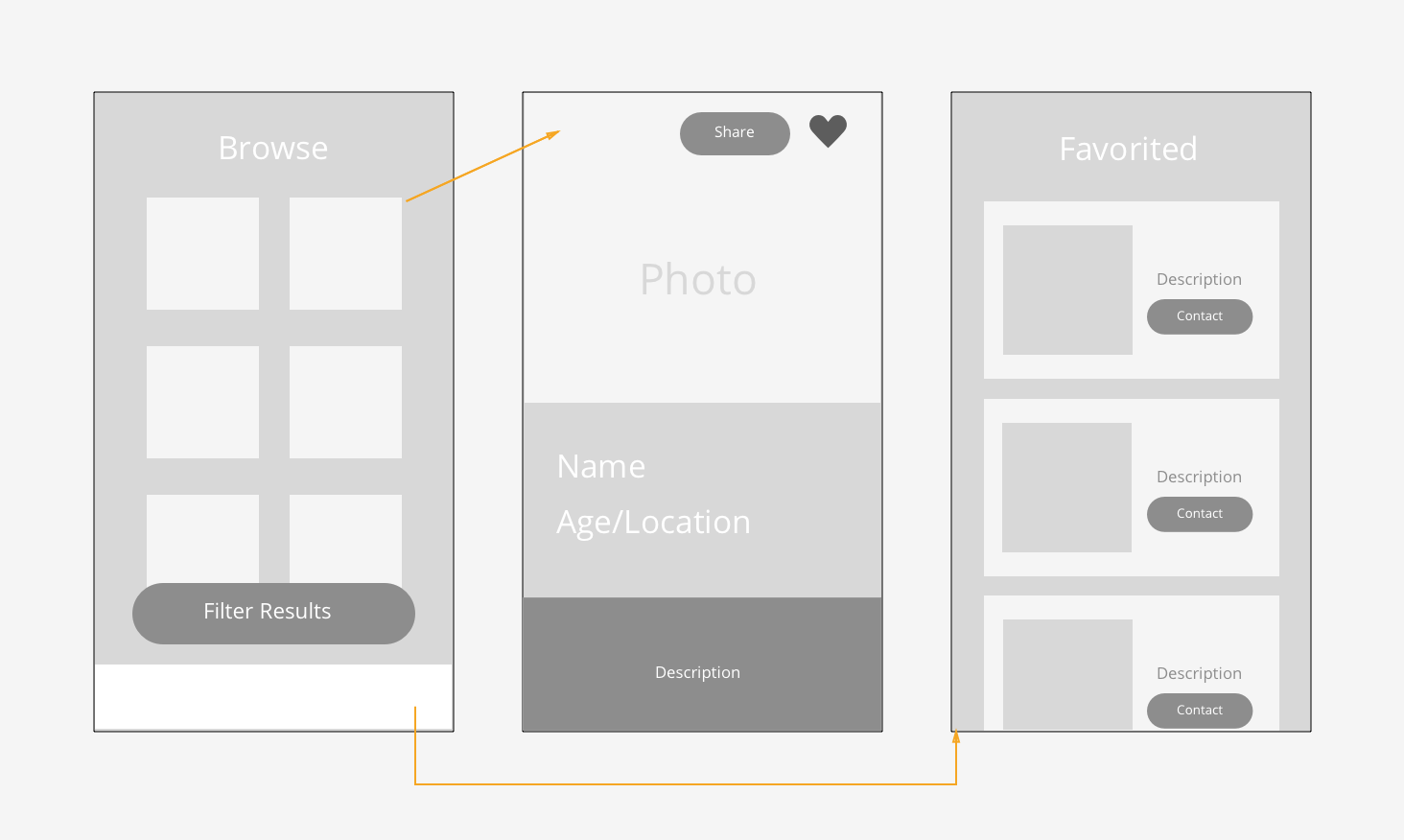 I started out my prototype by using Sketch to make some simple layouts for most of the screens in the app. However, there were a substation amount of changes to the final designs.
I wanted to give the app a whimsical feeling since searching for a pet should be an overall fun experience. To achieve this, I used a rounded title font (Galano Grotesk) and mostly pink when emphasis is needed. Bright gradients serve as accents to emphasize different traits displayed in tags.
A Streamlined Solution
This is my stab at making a tool that would aid people in their search for their next pet. Again, it would not replace a visit to a shelter to meet an animal in person, but instead, decrease the amounts of visits a person would have to make to s a shelter and help facilitate the communication between shelters and potential owners. In the prototype, I focus on cats, but the of course the app could also apply to dogs, rabbits, birds, and any other common house-hold pet.
In order to maximize the happiness of both you and your pet, it's crucial that you adopt an animal that matches your lifestyle. While the other apps included filters, none really had a solid on-boarding process that narrowed down results immediately.
Most people are initially drawn to a potential adoptee based on appearances alone. Keeping the browsing section clear of excess information maximizes the space used for displaying photos. Additionally, the app would encourage shelters to upload flattering images of the residents.
Final Thoughts
In November 2016, I found my best feline friend at a Petco across the street from the Seattle Animal Shelter (they were housing cats from the shelter). If my roommate hadn't dragged a discouraged me to the Petco, I would have missed out on one of the cutest cats. My hope is that with the app, we would decrease the role of luck in other's search.